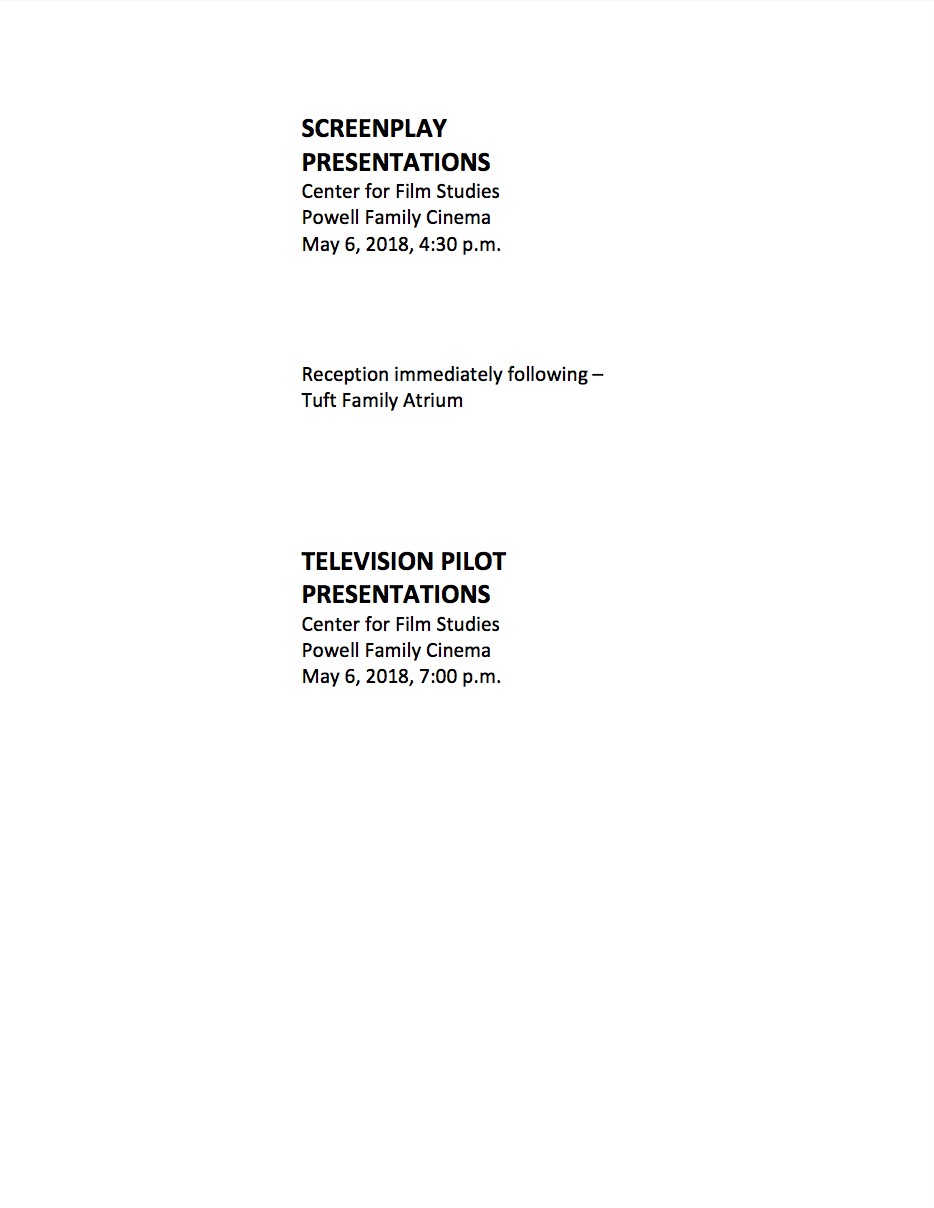 On Sunday, the campus gathered in the Powell Family Cinema for this year's screenplay and television thesis presentations. The department's senior thesis writers had the chance to present and read from their year-long projects. Here are the students (and Joe Cacaci) and their work:
Screenplay writers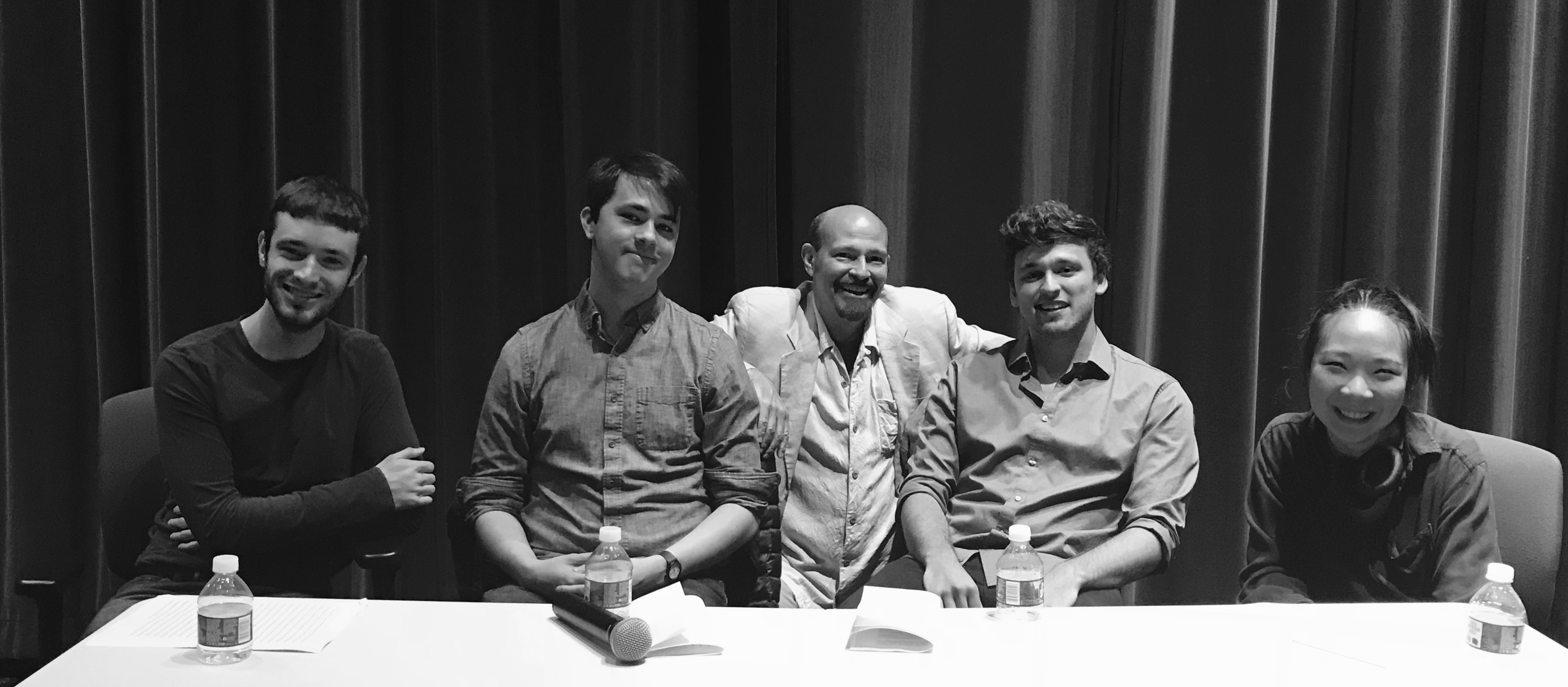 Left to right:
Lealand Meade-Miller, Tsar Ian 
Ian is a twenty-something American thrown into an identity crisis by the death of his father. He finds the answer to this crisis in his father's attic, where he discovers he is the last descendant of Tsar Nicholas II of Russia and heir to the Russian throne. Spurred by a sense of destiny, he embarks on a journey to Russia to claim his birthright. On this journey he finds friends, foments mob violence, and gets involved in a mafia conspiracy, leading him to question his purpose in the world and what destiny truly means.
James Cureton, Seattle Story
Leah is a hardworking high school senior, who lives in Seattle with just her mother, Alma. Leah's life is focused around finishing her high school career on track and getting a scholarship to college. A chance encounter on the streets of Seattle brings her back into the orbit of her estranged father, Anthony. Having lost contact with him and his new family years ago, she has to rediscover what family she really has and who she has to count on.
Jack Maraghy, Burner
Every year social outcasts flock to the desert for free love and free drugs at a weeklong, Burning Man-esque art festival. But Grayson, long time "Burner" and unofficial festival fixer, can't relax after witnessing a murder on the first night of the fest. He spends the rest of the week unraveling a conspiracy that may ultimately unravel him. It's a surreal decent into darkness as he learns what he'll sacrifice to protect his way of life.
Jianna Xiong, Dot
Eight-year-old Dot and his father, Adam, live alone in a secluded, undeveloped valley that encloses an otherworldly land made of rough diamonds. Working with his colleague at the federal environmental agency, Adam is committed to shielding the diamond field from the profit-driven outside world. Meanwhile, trying to shelter Dot from the truth of his mother's suicide, Adam comes up with a mythical story that leads Dot to believe that his mother is living in the distant, all-powerful ocean. However, when the diamond field is brought to the attention of a diamond-mining corporation, the company's imminent encroachment threatens both the valley's preservation and Dot's idealistic worldview.
Television writers

Left to right:
Arianna Allegra D'Andrea, Syndicate
Do intentions justify actions? Set in NYC, Syndicate explores the psychological journey of two unsuspecting people involved in illicit activities, for moral reasons. The drama centers on Ginger, a 21- year-old business enthusiast whose future gets derailed due to foolish, heat-of-the- moment decision-making. What began as a quick fix to help pay family medical bills soon devolved into total involvement in nefarious activities that eat away at her daily. Lucky faces a similar situation. His now comatose brother, Dom, would use revenue from his marijuana sales to help the less fortunate. Struggling to upkeep this financial support, Lucky is launched into a business he never wanted part in. The two form an unlikely alliance, but their pasts are dangerously intertwined. The closer Lucky and Ginger grow, the closer everything comes to falling apart…
Matt Fichandler, Whisper Valley
Whisper Valley is a mystery-comedy that follows the Buckworths, a family of four, as they move from Philadelphia to the picturesque town of Bearskin Butte, Colorado. Every resident of Bearskin Butte is a member of Envirology, a nature-loving cult. Throughout their move, the Buckworths learn that Envirology is one week away from The First Day, and while attempting to discover what will happen on The First Day, the Buckworths learn that Bearskin Butte is not what they thought it was. Not only is Envirology moving the town towards self-sustainability without permission from the government, but the town of Bearskin Butte doesn't even technically exist. They are actually in Whisper Valley, a town that Envirology has secretly been fixing up ever since its abandonment 25 years ago. What will The First Day bring?
Kaelin Loss, Zapp and Zodd
On planet Cardosso, the aliens working at Zarthorp Productions struggle to save their most popular television show: Earth. The Cardossians have watched the evolution of Earth, its species and cultures with disgust and morbid curiosity for 4.5 billion years. But the show's location is nearing total destruction, and evolving technology poses the possibility of human colonization in space. Enter Zapp and Zodd: producers with nothing in common who must assume human form, travel to Earth, and determine whether humanity is worth saving. Zapp and Zodd, a half-hour comedy, is bursting with criticism and commentary on human nature through an "alien" perspective.
Zenzele Price, Blame
The Shore family moved to rural Watertown, Idaho in hopes of a fresh start. But on one Sunday morning at the supermarket, Alex, the family's eldest son, commits a crime that erases any hope the Shores harbored of living a normal life. Alex's act is caught on camera, capturing the attention of the news and igniting the indignation of the entire community. As the media spotlight threatens to unearth decades of family secrets, one question about that fateful morning remains unanswered – why did Alex do it?
Blame follows the Shore family as the consequences of that morning ripple through the town, thrusting a grieving family and a reeling community into public scrutiny.
Tenement is an hour-long historical drama series. By 1925, only the very poorest of the million and a half Jews who immigrated to New York City in the prior half-century still remain on the Lower East Side. One such poor family is the Nadelmanns: parents Abram and Devorah, and their children Menachem, Yaaakov, and Anna. Abram's diagnosis of tuberculosis and subsequent hospitalization sparks great change in all their lives: Menachem becomes politically active as an anarchist, Yaakov becomes an assistant to a shady and wealthy banker, and Anna explores acting in Yiddish theater. Family friend Leah starts a garment manufacturing business. As they gain experience, grow in ambition, and face escalating obstacles, they reevaluate their goals and their relationships with their loved ones.
Will Stewart, Become Death
Become Death tells the story of two families brought together to survive the nuclear apocalypse. Fifteen years after the bombs fall, the Bates and Gomez families sit opposed over the remains of the State of Tennessee in the midst of a war between the United States and China. In the pilot, the various members of the Bates and Gomez families struggle to seize power after the President's revelation that the Chinese army has developed technology which may end the nuclear detente. Bud Bates, the patriarch of the Bates family, wants to capitalize on this new technology, while matriarch Martina Gomez wants to reveal the secrets Bud hides on his estate.
Congratulations to all thesis writers! Be sure to catch the history, theory, and criticism presentations on Monday 5/7, and the thesis films on 5/11 and 5/12.