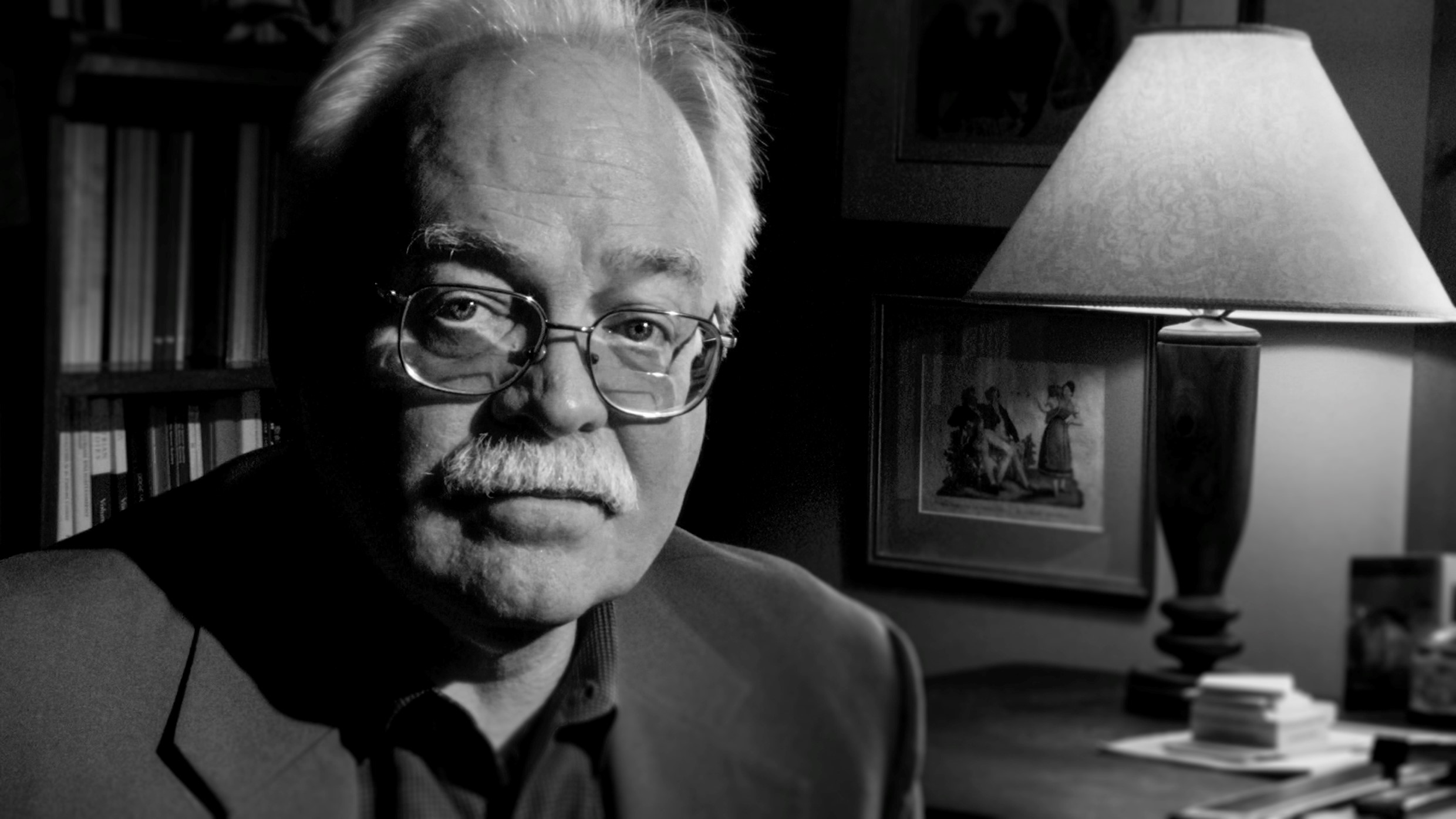 By Leo Lensing
As students of "New German Cinema" know, I show sequences from Douglas Sirk's All That Heaven Allows (1955) when we discuss Rainer Werner Fassbinder's bold adaptation from 1973, Ali: Fear Eats the Soul. Fassbinder substitutes a more complicated relationship between a younger Moroccan immigrant worker and an older German cleaning lady for the 1950s version of a fraught May-December romance embodied in technicolor (and lily white) by Rock Hudson and Jane Wyman.

I have threatened for years now to repeat a seminar that I taught once long ago, "Limitations of Life: Fassbinder & Sirk," and this fall I will make good on that underhanded promise with a course that explores the relationship between the once neglected German-American émigré director and the enfant terrible of the New German Cinema. Fassbinder's 1971 essay "Imitation of Life. Six Films by Douglas Sirk" was a major factor in the critical rediscovery of Sirk's subversive melodramas. The encounter with these films accelerated Fassbinder's ambition to make films that combined Brechtian "distanciation" with Hollywood glamor. The course will explore the connections between the Sirk films that Fassbinder first saw in Munich in 1971, including Written on the Wind and Imitation of Life, and his early Sirk-inspired social dramas of contemporary German life as well as their impact on the great historical trilogy about the early postwar years, The Marriage of Maria Braun, Lola, and Veronica Voss (1978-1981). We will also look at two films Sirk made in Germany in the late 1930s with Zarah Leander, the Swedish-born star of German cinema in the early years of Nazi Germany. These films, too, marked Fassbinder's work and are perhaps one of the inspirations for Lili Marleen, his portrait of a torch singer compromised by her performances for the "culture industry" of the Third Reich.
As students of all my film courses know, I like to show them what dealers in movie memorabilia call the "paper" of the industry: posters, programs, postcards, scripts, even letters and other manuscripts and typescripts. During the March break – in a bookstore in Berlin piled high with cinema odds and ends of all kinds – I found this picture-postcard portrait of Zarah Leander from the 1940s: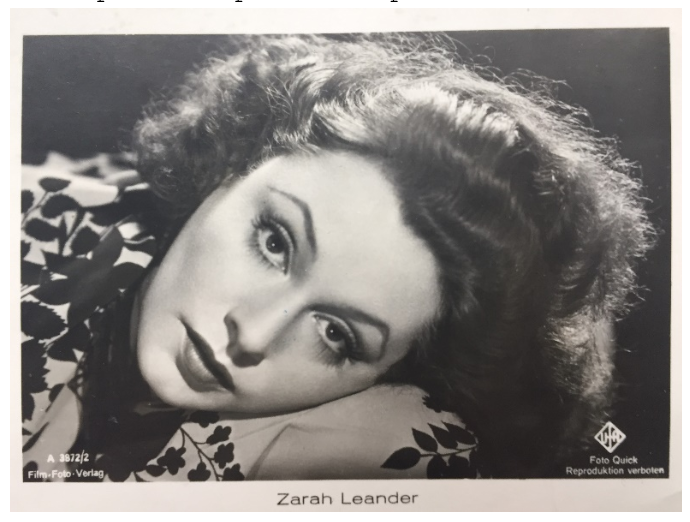 In The Marriage of Maria Braun, Fassbinder has the heroine and her sister Betti making their way through the ruins of their bombed out high school before singing "Nur nicht aus Liebe weinen" (Never Cry Over Love), a hit song from one of Leander's early films and a kind of anthem of their adolescence.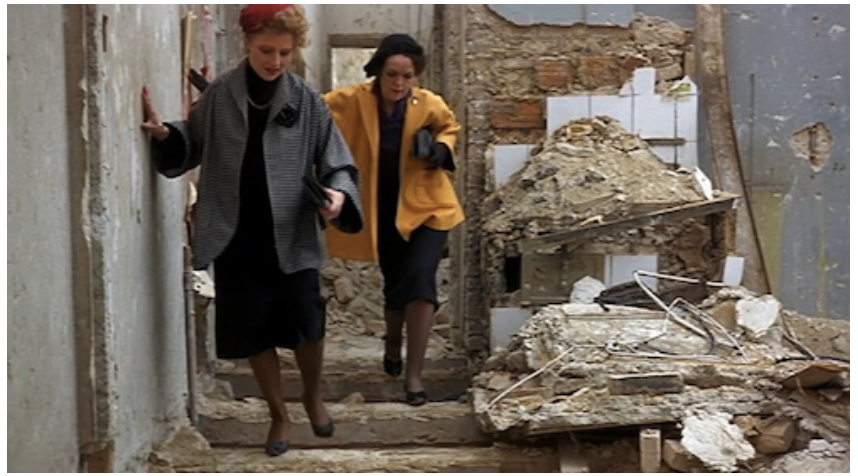 Not long before Sirk made Imitation of Life, he signed a 24-page-plus contract with Universal Studios, which I rescued from a book dealer in Baltimore.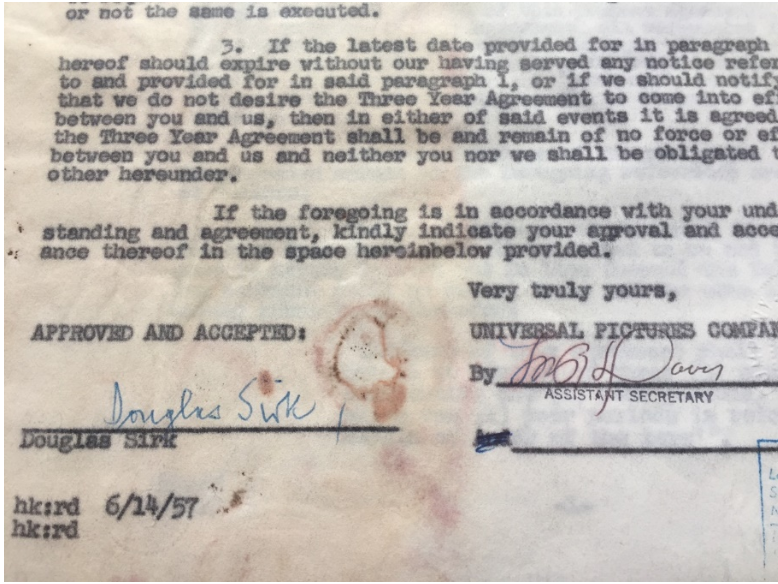 Sirk agreed to "render his services as a motion picture producer, including, but not limited to, services in supervising photoplays and/or services in a consulting capacity with respect to photoplays including the selection, writing, and development of stories, adaptations, dialogue and/or continuities, cutting, editing and the selection of cast and all the services as may be required of producers according to the custom of the industry." In other words, Universal wanted it all! Sirk was also required "to conduct himself with due regard to public conventions and morals and to agree that he will not do or commit any act or thing that will degrade him in society or bring him into public hatred, contempt, scorn or ridicule or that will shock, insult or offend the community or ridicule public morals or decency." It's safe to say that this might have worked for Sirk – it was the 1950s after all – but never for Fassbinder.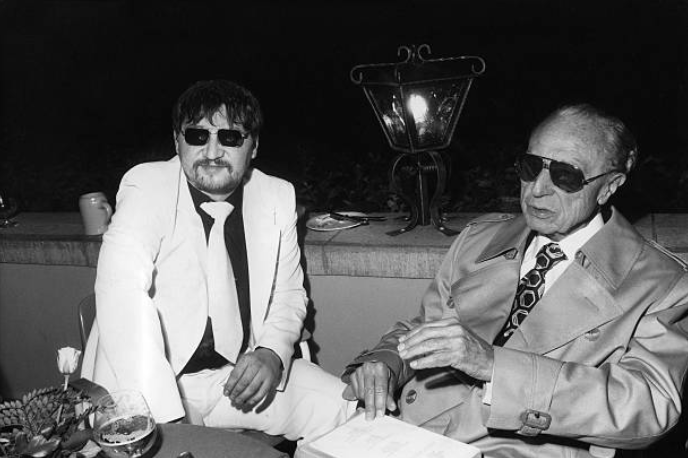 Commentators on the relationship between Fassbinder and Sirk rarely mention that not only did the young filmmaker eventually meet Sirk and participate in a joint interview, they also made a film together. Juliane Lorenz, the editor of Fassbinder's last films and the president of the Fassbinder Foundation, has given me a private DVD copy of Bourbon Street Blues, a short based on a story by Tennessee Williams. This scarcely known, rarely shown film will be another object of the course's inquiry into one of the most productive intergenerational relationships in the film history of the twentieth century.
LIMITATIONS OF LIFE: Coming in September 2018!