What do you do with a film degree? We reached out to some recent alumni to get the answers.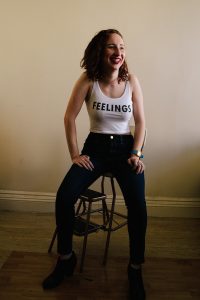 Hi Wes friends! My name is Hannah Rimm – I am class of 2015 and now live in Brooklyn, NY. My job title has changed a million time since graduating, but as of right now I am a writer, photographer, and social media producer.
I began my career four days after graduation as the marketing coordinator (and then manager) of the indie animation distribution company, GKIDS, known for bringing beautiful foreign animation, such as Spirited Away and Song of the Sea, to the US (shout out to the Wes people who still work there!).  At GKIDS I did everything from running marketing campaigns to social media to hiring as many Wes interns as I could. It was a really amazing way to kickstart my career and had some pretty cool perks – I got to go to the Oscars!
While at GKIDS, I began to freelance as a writer and portrait photographer and after three years I decided to leave to pursue freelancing full time. I'm now seven months into freelancing in social media, writing, and photography and I love it! My main client is the podcast company, WNYC Studios, where I write social media copy for podcasts such as Radiolab, Death, Sex, and Money, and 2 Dope Queens. I write mostly about sexual and mental health (thanks screenplay thesis for prepping me for this!) for publications such as Women's Health, Allure, and Healthline. My photography focuses on honest portraiture and mental health.
You can see my work and get in touch here: hannahrimm.com or follow me on Instagram – @hannahrimm – always down to meet fellow Wes alums!
Photo by Carey Macarthur