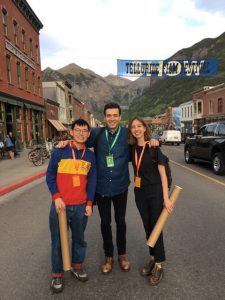 Contributed by Richard Parkin
In 2005, as an undergraduate, I had my first experience attending the Telluride Film Festival as a member of the Student Symposium, a rigorous four-day screening and seminar program for students from around the world. I was completely unfamiliar with the festival and had no idea what to expect. This is partly by design. Telluride does not announce its program until the day before the festival begins. As I made the long journey into a remote hamlet in the Colorado Rockies, the sense of anticipation kept building and the festival did not disappoint. I participated in seminars with Michael Haneke, the Dardenne Brothers, and Don Delillo; caught U.S premieres of contemporary classics such as Ang Lee's Brokeback Mountain and Hou Hsiao-hsien's Three Times; and formed lasting friendships rooted in a shared love of cinema. It was a formative experience that has become an annual retreat for the past thirteen years. Attending the festival now as a staff member, the highlight for me is to cross paths with Wesleyan students and witness their own unique festival experience.
Shortly after arriving in town, I happened upon Ezra Scott-Henning ('18) at Telluride's Elks Park and caught up on his post-graduation endeavors. Across the street were Minu Jun ('19) and Ruby Lanet ('18), fresh from their Student Symposium orientation. They shared their upcoming schedule of filmmaker seminars which included discussions with Hirokazu Kore-eda and Werner Herzog. We snapped a quick photo on Telluride's historic main street with its old mining town flare. Justin Kim ('19) joined us for a screening of Yorgos Lanthimos' The Favourite. During my post-screening walk down Colorado Avenue, I crossed paths with Ryan Gardner ('15) who assists with the Festival's Development team. I then rushed to catch Karyn Kusama's Destroyer, a gritty LA noir starring a near unrecognizable Nicole Kidman in a superb performance.
I began the second day of the Festival with a 9am Tribute to Alfonso Cuarón followed by a screening of his excellent new film Roma. Cuarón discussed the autobiographical nature of his 1970s Mexico City set drama that draws on his childhood memories. Later that day, Justin and I made a failed attempt to attend a sold-out screening of the Palme d'Or winning Shoplifters, although Henry Kinder ('17) was fortunate enough to gain entry. We instead sprinted across town to an archival screening of Douglas Sirk's The Tarnished Angels. A special selection by Festival Guest Director Jonathan Lethem, The Tarnished Angels quickly became my favorite screening of this year's program. Silvery black-and-white Cinemascope paired with dynamic camerawork, all in service of a William Faulkner based script. It was a cinematic delight. After the film, Lethem took the stage for a conversation with Christopher Olsen who played Robert Stack and Dorothy Malone's son in the film. Olsen shared behind-the-scenes stories with Sirk and accounts of Vincent Minnelli, Nicholas Ray, and Alfred Hitchcock from his brief yet prolific time as a young actor in Hollywood.
After the screening, Noah Sellman ('17) joined Minu, Ruby, Justin and myself for a late-night meal and conversation. Joe Garrity, a longtime festival friend and lead editor on Watergate – Or, How We Learned to Stop an Out-of-Control President, dropped in and shared his experience cutting the 261-minute documentary.
The rush of a four-day film festival can feel like a blur and it wasn't before long that I found myself on the flight back to Connecticut filled with the memories of films, warm encounters with friends, and – of course – a long list of titles that I missed (Cold War, Birds of Passage, Non-Fiction, and Shoplifters to name a few). The brief yet enriching visit to Telluride is a wonderful way to rediscover the power of cinema alongside a community of like-minded cineastes. The perfect mindset to begin the academic year at the Center for Film Studies.